"The mission of our business is to exceed customers' expectations by creating jewelry of high quality, timelessness and permanence" states Dawn DiGesare, as she talks about her early inroads into the professional PMC Clay business. She began teaching online one-on-one through Skype with people all over the world. In 2016, she developed a 3-week course Making Signature Tags with daVoria Jewelry.

Today, Dawn DiGesare is one of 30 Principle PMC instructors that can certify people to become instructors at Camp PMC. "I decided I wanted to expand my coaching expertise" remarked Dawn, so she joined an international jewelry academy network Flourish and Thrive where she coaches jewelry designers and makers on various aspects of their businesses. Dawn instructs professional educators, art instructors and upcoming jewelry artist building individual businesses focused on clay metal jewelry creation, distribution, retail sales and in the ecommerce marketplace. www.camppmc.com/dawn-digesare
This two-day course is designed to teach students, who are interested in becoming instructors, to hold successful workshops, develop projects, curricula and certify students in the Camp PMC Certification Program. Students learn all of the fundamental skills of instruction while working through a real-world project. The one-day course is designed to teach PMC Instructors to master their instruction techniques, train other students in the art of instruction, adhere to ethical standards within the art world and mentor students as well as other metal clay instructors. Lesson plans, time management, pricing as well as motivational speaking will be addressed. Practice sessions of group speaking and holding your audience's attention are just a few of the subjects discussed.  www.campmc.com.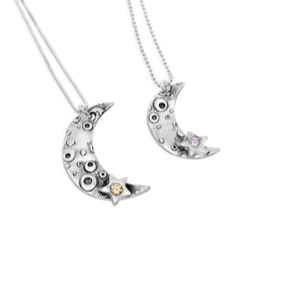 Artists come to daVoria for a reminder to follow their passion, find peace and to become a better version of themselves. Her jewelry enables customers to connect with a loved one lost or to honor one. Whether their goal is to commemorate a child's signature, a group celebrating turning 60 together, or a collaborative team achievement, these custom pieces of jewelry unite many. www.daVoria.com
Dawn makes inspired jewelry that touches one's heart. Her passion is helping customers heal and helping artisans become their best through handmade, metal clay jewelry, "It's not about us, it's about you" commented Dawn. We love a good story that lives behind each of her jewelry creation. Dawn's "Phases of the Moon" necklace is featured on River's One of a Kind Finds at https://riverartgalleryandgifts.com/gift-shop/one-of-a-kind-finds/
Click here to register for the 2 day class
https://riverartgalleryandgifts.com/classes/
If you have any questions about Camp PMC Course 101, email Dawn at [email protected]
This class will be hosted by River Art Gallery & Gifts at 83 Webster Street, North Tonawanda, New York 14120