Art & Stress Reduction
Mondays: 6 PM – 7:30 PM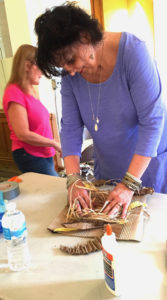 Blend Mindfulness, Guided Meditation & the Creative Process to Release & Let Go of Daily Stress. Develop a sense of balance & peace of mind!
• Give yourself the gift of relaxation & healing!
• This class is ongoing…Art Materials Provided!
• Discount Packages Available!
Instructor: Lisa Horlein, LCAT, ATR-BC
Lisa is a Licensed Creative Arts Therapist committed to creating enriching experiences that inspire & transform lives.  Over the course of her career, Ms. Horlein has led numerous workshops & presentations on the topic of arts & healing.
CALL LISA HORLEIN for info and registration 716-863-0300